Achieve the mathematical limits of network performance. Relieve the pain of cross-layer optimization. Get a competitive edge: use our modular solutions to supercharge wireless appliances with best-of-breed algorithms from computational connectivity.
As shown by the Flash animation on the right, for example, our Connection Foundry™ software synthesizes elastic topologies that optimize the power, latency, throughput, and fault tolerance of mobile ad hoc networks (MANETs). The algorithms, designs, and simulations of Connection Foundry™ port to the embedded realtime control of cell phones, wireless appliances, and cognitive radios.
For more information, including pricing and how to order, please refer to our Connection Foundry™ product guide. For highlights of developments related to Connection Foundry™, visit our Press Room, or browse to our experience and capability portfolio.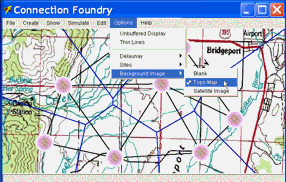 | | |
| --- | --- |
| | Client: Dept. of Homeland Security |
Contact us if you would like us to customize Connection Foundry™ for you, or if you are interested in licensing the underlying intellectual property. We can also provide professionals to help solve your problems with wireless connectivity and network optimization. More …